!... template by Miichiko, WARNING ! DO NOT REMOVE CREDITS...!>
Dream, though your beginnings might be humble, may the end be prosperous.
short intro
Amalina
,
otherwise known as
Lulu
.
A female with Peterpan complex.
Still failing at life but YOLO.
(
爱
) books, fanfictions, shoujo manga, drama, band music, acoustic songs,
FTISLAND
,
BTS
, ideas of soulmate and parallel universe & cats.
yosh,
よろしく
ᶘ ᵒᴥᵒᶅ
the past
Arigatou
Template was made by
Miichiko
. Thanks to
Pixel-diary
for the cute pixels and icons. Lyric Quotes:
Agust D
, So Far Away. Free Domain:
CO.NR
kemengarutan ep 4
Assalamualaikum. hello. sudah lama kan tak berjumpa? :)
minggu memerah otak telah pun tiba :|
rasa macam tak percaya kan dah nak habis semester 1 ni? rasa macam baru hari tu je aku daftar kat UiTM Pilah ni, pastu homesick bagai :D eiih jap, sekarang pon aku tengah homesick - harihari aku homesick- hehehe :p
tadi tepat jam 11pagi, selesailah budak part 1 mengambil paper CTU atau common name dia; agama. okay, one down. five more to go! OH YEAAAAH~
study study dan asyik study menyebabkan kulit kita menjadi tidak sihat ye, pelajerpelajer~ *gaya miss tan cakap. (eihh, macam korang kenal lak miss tan tu sape eih?)
banyak kot jerawat yang hidup riang di wajahku ini. hahaha.
jadi tepeklah bedak sejuk tebaltebal kat muka ye, sejuk sikit muka tu. tapi AWAS, jangan keluar rumah malammalam dengan wajah sebegitu, takut ada yang pengsan nanti. hahaha XP
(:P)
sejak akhir akhir ni, asyik hujan je kat sini. baju aku tak kering kering. pastu bertimbun baju yang tak dibasuh lagi. jadi di sini saya nak memperkenalkan ,
ja ja ja jang~ MESIN BASUH di UiTM! (macam tak pernah ada washing mashine je. :p)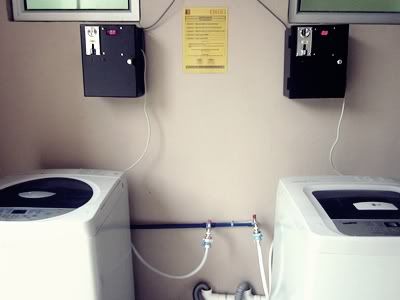 sekali basuh rm 2.50. sila dapatkannya di bawah blok masing masing.
*menjadi promoter tanpa gaji. :]
shdjsabdhadjadsgdussavdashjvasdsu.
ok, nampaknya aku dah takde mende nak dicelotehkan lagi. byebyebye.