!... template by Miichiko, WARNING ! DO NOT REMOVE CREDITS...!>
Dream, though your beginnings might be humble, may the end be prosperous.
short intro
Amalina
,
otherwise known as
Lulu
.
A female with Peterpan complex.
Still failing at life but YOLO.
(
爱
) books, fanfictions, shoujo manga, drama, band music, acoustic songs,
FTISLAND
,
BTS
, ideas of soulmate and parallel universe & cats.
yosh,
よろしく
ᶘ ᵒᴥᵒᶅ
the past
Arigatou
Template was made by
Miichiko
. Thanks to
Pixel-diary
for the cute pixels and icons. Lyric Quotes:
Agust D
, So Far Away. Free Domain:
CO.NR
jee jee jeeeeeeeeeeeee~
teringin nak pergi belajar luar negara.
pfffffft. blahlah kau lu, duduk
pilah
pon asyikasyik nak balik. ini nak pergi luar negara.
ok, study abroad. I do think about it, but maybe it's not the best time, tunggu ko dah tualah lu, time ko nak sambung master ke, phD ke, I think if you want to go at that time, I will let you go, lu.
hahahaha. :)
so, for now just stay here. finish your diploma first and the most important is you have to finish your semester 1 first. :p (part 1 pon tak habis lagi, dah fikir jauhjauh)
nak tahu tak, last night I got speaking test, and FYI, I hate to speak especially in English because I think my pronunciation is bad you know. aihhhhhhh~ and I think I screwed up that test. ohhh English, I love you when it comes to writing but when it comes to speak, I despise you.
lagi satu, semalam ada heart to heart conversation. muahahahaha, lega sikit ohh. fuh fuh fuh :)
so, today, I think I can smile wider than yesterday. wooooot :)) I don't think I should give up yet because life will give you surprises when you are least expected, right? so, I should have wait a little longer. have faith in myself, because I think I deserve that, okay lu? promise okay? hahaha :D
today class starts at 2pm. YAY YAY YAY!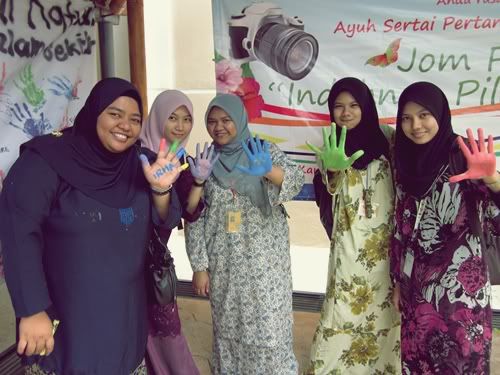 byeyo~